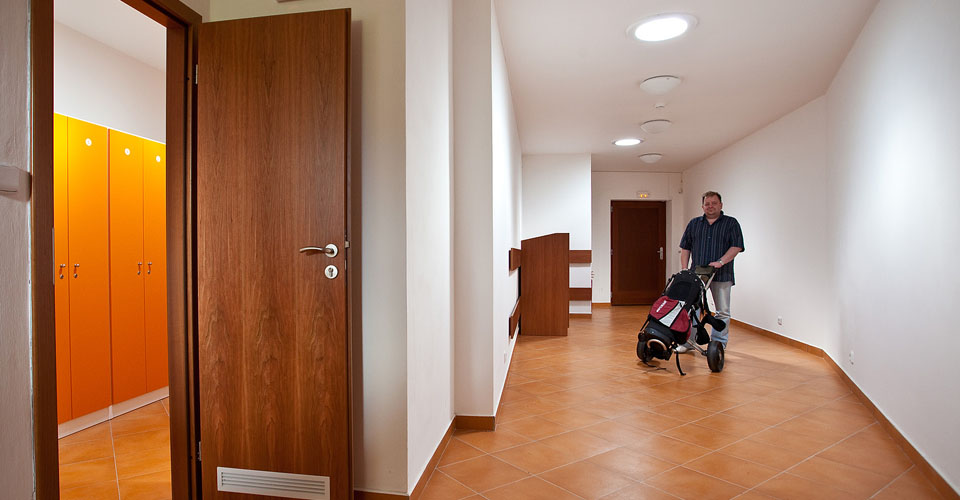 Is it difficult to decide on Lightway, are you hesitating with your choice of light pipe brand?
Here are specific references from Lightway users in commercial spaces.
Lightway light pipes have been installed in many commercial areas since 1999 and have been delivering plenty of sunlight to their interiors. Thanks to the extraordinary performance and proven longevity, they have been delivering sunlight to many places all over the world.

---
Prague Ruzyne International Airport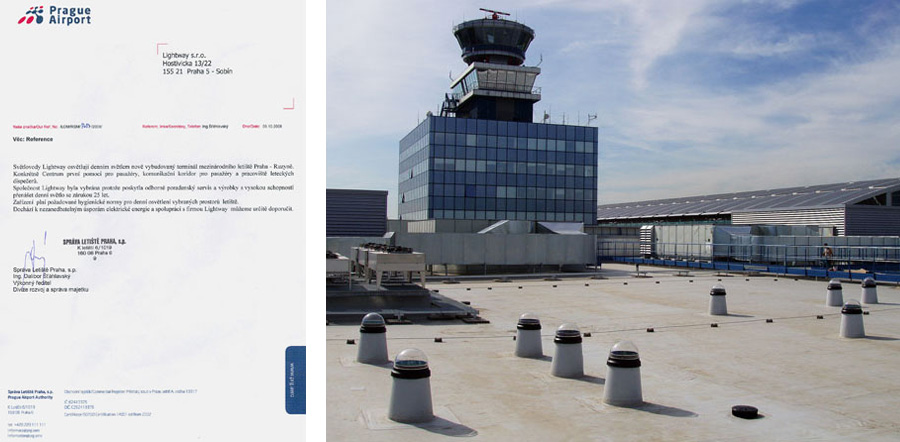 ---
Some selected references
Czech Republic
Kaufland – Havířov, 15 sets LW 800
Siemens VDO – Frenštát pod Radhoštěm,25 sets, typ LW 600
Škoda auto, Mladá Boleslav, 30 sets, typ LW 600 a LW 800
Škoda auto, Vrchlabí, 60 sets, typ LW 800
Škoda auto, Kvasiny, 15 sets, typ LW 800
Hilti, 15 sets, typ LW 800
Knauf, 20 sets, typ LW 800
Komerční banka, 8 sets, typ LW 800
ALBERT – Karlovy Vary, 15 sets, typ LW 800
LIDL, 7 sets, typ LW 800
Obchoní Centrum Futurum, 11 sets, typ LW 800
Electroworld, 35 sets, typ LW 600 a LW 800
Daimler Benz, 15 sets, typ LW 800
Kaufland, 18 sets, LW 800
HENKEL, 22 sets LW 600
Blue Orange, 6 sets LW 600
ZŠ Poříčí nad Sázavou, 25 sets LW 800
Zentiva, 5 sets LW 600
Vysoká škola báňská Technická Univerzita Ostrava, 8 sets LW 800
Úřad práce – Chrudim, 12 sets LW 600
Úřad práce – Krnov, 4 sets LW 600
Tesco – Jirkov, 10 sets LW 800
Střední škola grafická Hellichova, 8 sets LW 600
Průmstav Náchod, 3 sets LW 600
Pozemkový fond – Bruntál, 6 sets LW 800
Poliklinika Jilemnice, 6 sets LW 600
Plus – Krásné Březno, 4 sets LW 800
Philip Morris ČR a.s., 35 sets LW 800
Panasonic, 8 sets LW 800
Ostravské Muzeum, 15 sets LW 600
Nemak, a.s. 10 sets LW 800
Mezinárodní letiště Praha RUZYNĚ, 170 sets LW 800
Mercedes – Daimler Centrum Chodov, 5 sets LW 800
Mercedes – Král, 4 sets LW 600
Kostelecké uzeniny a.s., 6 sets LW 800
Knauf Insulation Glasswool, 18 sets LW 600
KB Palmovka, 12 sets LW 800
NOVERA, 4 sets LW 800
Hranipex, Česká republika, 12 sets, LW 800
Globus – Liberec, Česká republika, 6 sets LW 800
Galerie Nové Butovice – lékárna, 2 sets LW 800
Eden Group, a.s. 8 sets LW 600
DBK Praha, 5 sets LW 800
Centrum Chodov – BBC sportcentrum, 2 sets LW 800
Ikea, 22 sets LW 800
Foreign
BNP Paribas, France, 15 sets LW 400
Tesco Hungary, 950 sets LW 800
BOSCH, Turkey, 25 sets LW 800
Tesco (supermarkets Kipa), Turkey, 250 sets LW 600
Bautersem, Belgium, 2 sets LW 400
Pig farm, France, 12 sets LW 600
VITA PHARM PHARMASUTICALS, Greece, 20 sets LW 600 - 18 sets LW 800
AMALTHIA TRAIDING, Greece, 26 sets LW 600
EYDOS AVEE, Greece, 12 sets LW 600
Mc Donald´s, Portugal, 10 sets, typ LW 400
COSTRUZIONI CARBONCINI, Italy, 16 sets HP 400
ISTITUTO BARBARA MELZI, Italy, 8 sets HP 300 – 19 sets HP 400
ITACA, Italy, 5 sets HP 400
AUDIOLUX, Italy, 16 sets HP 400
ISTITUTO SUORE SACRAMENTINE, Italy, 9 sets HP 400
NAVIGLIO CARNI, Italy, 4 sets HP 400 - 2 sets LW 600
RASPINI SALUMI, Italy, 7 sets HP 400
MEDIA LUNA, Italy, 6 sets HP 400
HOTEL SPINALE, Italy, 2 sets HP 300 – 2 sets HP 400 – 2 sets LW 600
FUDEX, Italy, 2 sets LW 600
MUSEO ARCHEOLOGICO, Italy, 15 sets LW 600
MERLIN DOMENICO SAS, Italy, 3 sets LW 600
ISTITUO MUZIO GALLO, Italy, 4 sets LW 600
Atelier Herzog, Germany, 5 sets LW 400
AZB Dachdecker, Germany, 6 sets LW 300
BBA Verwaltung, Germany, 3 sets LW 800
BBA Sporthalle, Germany, 6 sets LW 800
Bioenergie, Germany, 4 sets LW 400
Blaue Lagune, Germany, 3 sets LW 600
Bosch Siemens, Germany, 6 sets LW 800
CompuGroup, Germany, 2 sets LW 800
DM Drogeriemarkt, Germany, 5 sets LW 600
Flughafen Funchal, Germany, 12 sets LW 800
Graf Buchheim, Germany, 3 sets LW 600
Gymnasium Neubiberg, Germany, 7 sets LW 400
IGS Peine, Germany, 12 sets LW 400
Johnson Controls, Germany, 8 sets LW 600
KMP, Germany, 4 sets LW 800
Balekisir, Germany, 9 sets LW 400
LSB Hannover, Germany, 3 sets LW 400
Metro Adana, Germany, 6 sets LW 800
Metro Kartal, Germany, 8 sets LW 800
Metro Konya, Germany, 4 sets LW 600
Polizeischule Selm, Germany, 8 sets LW 400
REK Hamburg, Germany, 7 sets LW 400
Unilever, Germany, 3 sets LW 800
Feinbäckerei Otto, Germany, 3 sets Crystal 300 HP
dm Drogeriemarkt, Germany, 1 set Silver 600 - 1 set Silver 800
Artwork u. Design Margit Herzog, Germany, 4 sets Silver 600
Fam. Hepp, Germany, 4 sets Crystal 400 HP
LSB Hannover, Germany, 11 sets Crystal 400 HP
VR Bank Eichstätt, Germany, 12 sets Silver 600
GFH Neumann, Germany, 13 sets Crystal 300 HP
EDEKA Tiedemann, Germany, 2 sets Silver 600
Autohaus Müller, Germany, 3 sets Crystal 400 HP - 3 sets Silver 800
Landespolizeischule Selm, Germany, 16 sets Silver 600
Uni Augsburg, Germany, 15 sets Crystal 400 HP
Markus Gstattenbauer, Germany, 2 sets Crystal 300 HP
IGS Peine/Vöhrum, Germany, 3 sets Silver 800
Barthau Anhängerbau, Germany, 2 sets Silver 600
Fa. Eickhoff, Germany, 1 set Silver 600
Kölper Colours & Design, Germany, 2 sets Crystal 400 HP
Fa. Bröhlhorst, Germany, 2 sets Crystal 400 HP
CompuGroup, Germany, 6 sets Silver 800 - 1 set Crystal 400 HP
Vogtlandhandwerker Seyfert, Germany, 1 set Silver 600
Unilever Deutschland, Germany, 2 sets Silver 600
E-Haus Dipl. Ing. Runzheimer, Germany, 2 sets Crystal 400 HP
LAFP Dortmund, Germany, 2 sets Crystal 400 HP
Dr. med. C. und C. Naumann, Germany, 2 sets Crystal 300 HP
Team Tejbrant, Germany, 1 set Crystal 300 HP
Fa. Kahl, Germany, 1 set Crystal 400 HP
Zimmerer Meraner, Germany, 2 sets Crystal 400 HP
Gymnasium Neubiberg, Germany, 20 sets Crystal 400 HP - 36 sets Silver 600
Fa. Saxum, Germany, 9 sets Crystal 400 HP
Fa. Rust, Germany, 9 sets Crystal 400 HP
Fa. MEB, Germany, 1 set Crystal 400 HP
M.A.I. gGmbH, Germany, 6 sets Crystal 300 6 sets 400 HP
Fa. Vogel, Germany, 1 set Silver 600
Fa. Goldbeck, Germany, 24 sets Crystal 400 HP
Fa. Eichner, Germany, 2 sets Crystal 400 HP 1 set Silver 600
Wolfgang Prinz, Germany, 1 set Crystal 300 HP
Frank Gerlach, Germany, 1 set Crystal 300 HP
Herbert Aichem, Germany, 1 set Crystal 300 HP
Jens Bögelsack, Germany, 1 set Crystal 300 HP
Fam. Stefanek, Germany, 1 set Crystal 300 HP
Rainer Bock, Germany, 2 sets Crystal 400 HP
Fam. Mitgude, Germany, 1 sadaCrystal 300 HP
Uwe Schriever, Germany, 1 set Crystal 300 HP
Fam. Krohn, Germany, 1 set Crystal 300 HP
Fam. Burkert, Germany, 1 set Crystal 400 HP
Miroslav Zivicnjak, Germany, 1 set Crystal 400 HP
Klaus Walther, Germany, 1 set Crystal 200 HP
Walter Hoch, Germany, 2 sets Crystal 300 HP
Heiko Gorski, Germany, 1 set Crystal 300 HP
Günter Mannartz, Germany, 1 set Crystal 300 HP
Fam. Kuhner, Germany, 1 set Silver 800
Wilfried Mützlitz, Germany, 1 set Crystal 300 HP
Michael Girtner, Germany, 1 set Crystal 400 HP
Christian Heckl, Germany, 1 set Crystal 300 HP
Michael Kammer, Germany, 1 set Crystal 200 HP
Holger Knöthig, Germany, 1 set Crystal 300 HP
Ingrid Buchheim, Germany, 6 sets Crystal 400 HP - 3 sets Silver 600
Gregor Beyer, Germany, 1 set Crystal 200 HP
Andreas Fritzsche, Germany, 1 set Crystal 400 HP
Gustav Kühnle, Germany, 1 set Crystal 200 HP
Fam. Gwosdek, Germany, 1 set Crystal 400 HP
Bernd Pomnitz, Germany, 1 set Crystal 300 HP
Eckhard Schneider, Germany, 1 set Crystal 400 HP
Frank Riedel, Germany, 1 set Crystal 400 HP
Peter Tramski, Germany, 4 sets Crystal 300 HP
Matthias Hillmann, Germany, 1 set Crystal 200 HP
Ronaldo Brieg, Germany, 1 set Crystal 200 HP
Carsten Fischbeck, Germany, 3 sets Crystal 200 HP
Wolfgang Pieske, Germany, 1 set Crystal 300 HP
Enrico Böhnke, Germany, 1 set Crystal 400 HP
Ramon Weil, Germany, 4 sets Crystal 300 HP
Auste GmbH, Germany, 2 sets Crystal 400 HP
Dieter Hausmann, Germany, 1 set Crystal 400 HP
Rene Stöckel, Germany, 1 set Silver 600
Bernd Lukas, Germany, 2 sets Crystal 300 HP
Familie Reeh, Germany, 1 set Silver 600
Cordula Exner, Germany, 2 sets Crystal 400 HP
Familie Stünkel, Germany, 1 set Silver 600
Familie Ripkens, Germany, 1 set Crystal 300 HP
Familie Schindewolf, Germany, 1 set Crystal 400 HP
Familie Forster, Germany, 1 set Crystal 400 HP
Familie Metz, Germany, 1 set Crystal 400 HP
Familie Seelig, Germany, 3 sets Crystal 400 HP
Familie Dyong, Germany, 1 set Silver 600
Familie Schneider, Germany, 1 set Crystal 300 HP
Familie Turkowski, Germany, 1 set Crystal 200 HP
Familie Feder, Germany, 1 set Crystal 200 HP
Familie Kissler, Germany, 1 set Silver 600
---